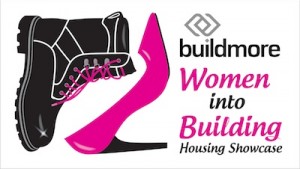 A team including women ranging from architects and engineers to trades people have designed, constructed and supplied a sustainable and environmentally designed showcase home.
This project was an opportunity for women to network and build links with women established in the construction industry. Mentorship was a strong element of the project with young participants receiving first hand guidance and encouragement from key figures of the building industry.
CPSISC (Construction Properties Services Skill Council) and www.constructmycareer.com.au will distribute nationally still images and videos compiled during the design and construction of the Women into Building Housing Showcase. Industry associations, career advisors and schools will receive copies depicting the vast array of career trade/vocations of women actively participating within the building industry.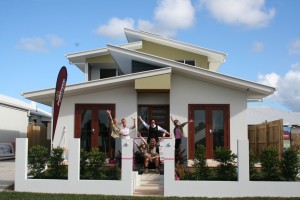 The Women into Building Housing Showcase is bringing various issues to the forefront of the industry. The Builder behind the "Buildmore Women into Building Housing Showcase" knew that to successfully set an industry benchmark there had to be more depth to this national first initiative than it being designed and built
predominately by women. Beyond the underpinning key message within this initiative is the importance of Environmental Sustainability.
Buildmore demonstrates its commitment to use best practise in the protection of the environment by ensuring that efficient and sound principles are implemented on our sites and adopting measurable targets which lead to the promotion of passive design, low impact materials, sustainable development and waste reduction.
It is the first time a project of this scale has been completed through the labour and promotion of a predominantly female team in Australia.
Wendy Moulton from Building Matters Queensland is a key organiser and instrumental support partner and role model of the WIB Initiative. Wendy and the Women into Building team are proud to present to you a beautiful, sustainable home that represents the collaboration of many important Key Industry Stakeholders, combined with the contribution of an unprecedented number of talented women who demonstrated ingenuity, skill and determination. This home is representative of a key message that we felt was timely to convey and the industry wholeheartedly embraced and shared this positive sentiment.
We know that countless women are inspired by the numerous role models who were profiled throughout the duration of this project. We hold deep pride in each and every individual and organisation who participated in the overall success of this project and congratulate each of them on the outstanding historical results!
Text courtesy of Women Into Building, photos courtesy of Brian Rogers Photographics.